Melissa Rauch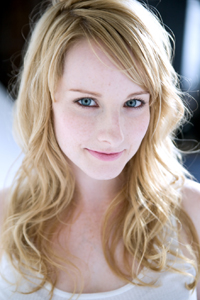 "Bernadette" on CBS's Big Bang Theory
Signed with William Morris Endeavour Agency
"Everything I learned about voice-overs I learned from Glen Holtzer. I use his fantastic techniques each and every time I go on a voice over audition or booking. The demo that I made with him has received so much terrific feedback. Glen really takes his time with you, unlike a lot of the voice over demo "factories" out there. He always makes sure you are the best Actor you can be behind the microphone. Not only is he so knowledgeable about the art of voiceovers - he teaches you about the business side as well to ensure your demo will market you in the best way possible. He is so fun to work and one of the nicest people in the business. I can't say enough wonderful things about him! If you're looking for the best voice over instructor there is, look no further than Glen!"
Kim Smelter
Producer, Digital shorts on Saturday Night Live and voice-over talent
"Working with Glen Holtzer prepared me for the numerous voice overs I did for Saturday Night Live and made me a better producer as well. Anyone I worked with who trained with Glen I knew would be professional and I could definately rely on them. He also made me much more aware of the acting process that goes into voice overs, which made me a better director of talent."
Simmy Kay
Voice over talent, actor, comedian, and executive producer for Tru TV. Signed with Buchwald & Assoc.
"Glen was, by far, the best voice coach I've ever worked with. He has an amazing knack for combining honest encouragement with constructive criticism, and he turned me into a successful voice-over artist. I quickly signed with a talent agent and found immediate success, and none of it would've been possible without Glen Holtzer."
Joey Lucas
Actor and Emmy Nominated Producer for "Cash Cab" and producer of shows on the WE and A&E. Hires and directs voice-over talent.
"I have nothing but good things to say about working with Glen Holtzer. I came to Glen strictly as a producer, having no acting or voiceover background but he was willing and patient enough to start working with me from scratch. I can say he not only has helped with my voiceover work but I have grown as a person, embraced my confidence, and I have become a stronger producer as well. He is committed to improving everyone he works with and he consistently brings humor and insight into every lesson. He will always tell you like is and always offers constructive criticism. His lessons do not just help you learn the craft and process of voiceover and acting but he also offers real-world advice about working in the industry. I cannot speak more highly of Glen. And even though I moved from NYC to LA, Glen and I still work together. Not only is he an excellent teacher but I can happily call him a friend as well."
Jeremy Dahm
Voice of Toyota Tacoma Trucks, Valvoline and Promos for ESPN and other national TV & Radio campaigns. Signed with Atlas Talent.
"Glen Holtzer is awesome! He doesn't miss hearing anything when you're behind the mike."
An email from Glen's client
Ali Abadi
"Hi Glen, I hope this email finds you well. Thank you so much for taking me on. I'm really enjoying working with you and am learning a lot! I took 10 classes at 4 hours each with another lady in LA and I did not learn as much as I have with you in 2 hours… That's is truly refreshing."
An email from Glen's former client
Genevieve Baer
who discovered him on Linked In
"Glen! I coached with you about 14 years ago and you helped me make my first demo...been doing professional VO since that time and making a living full-time for about 5 years. Thank you for giving me such a great start :)"
Lucille S. Rubin. PhD
Professionally Speaking
Stage Voice, Speech, Presentation, Media & Corporate Coaching
"Glen, you are a special guy who really cares & meets needs of clients. Those I have sent you have raved about how much fun you make the work-- and how eager they are to embrace your work. You are special! "
Wali M
Voice Talent at Voice By Wali
"Glen is the consummate professional. Very patient, and effective. The best there is in my humble opinion."